I know I have been a very bad blogger and I am sure you all know why! I had also promised that this post would be a review, an interview and some cooking but I really needed to post this round up first. Having been away from my blog disoriented me a little:). My apologies to Ramki and all those who sent me these lovely recipes – in case you have not received an acknowledgement from me it may be because you have sent your mails to 'sunshinemom' instead of 'sunshinemomsblog' or because I still need to drag back myself fully into the virtual world!! Unfortunately I haven't been able to participate in the event myself, but I do not regret it much as just devouring the delicacies with my eyes is not doing much good to the waistline! Here's the whole bouquet in no particular order:
My favourite Kolkata dish –
baingun bhaja
comes to us from
Ujju
of Cuisine Point. This is an appetizer as well as a side dish for me! What about you?
What would you do if you had some idli batter and some chutneys?
Madhuram
of Eggless Cooking turns them into colourful
cocktail idlis
! Hows that for a showstopping starter – an oxymoron of sorts??!!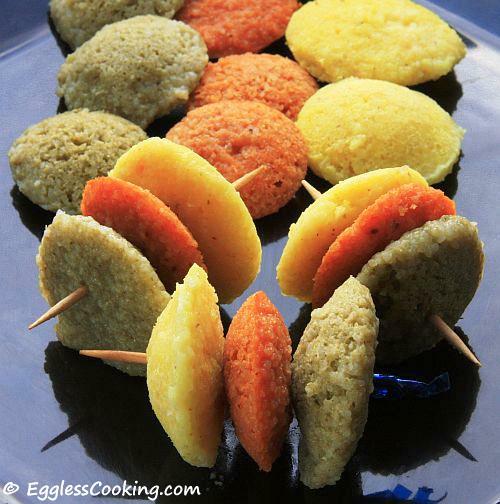 You want samosas but you do not know how to shape those 'trikons'? Well….that is why we have
Madhuram
showing you how to make them in a jiffy! Use mini filo shells instead, and impress your guests with these
low fat samosas
!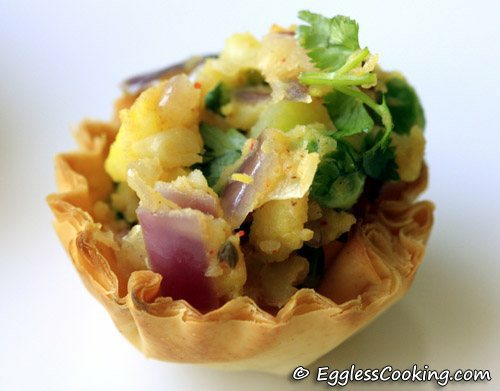 I told you chickpea flour rules the Indian kitchen when it comes to snacks! See how
Shama
of EASY2COOK RECIPES uses it to mask bitter gourds turning them into
bittergourd pakodas
, and also uses them to make
spinach bondas
.
Updated 18.05.09:
I had inadvertently left out two lovely entries. My sincere apologies to
Priya and EC
!
Priya of Priya's Easy N Tasty Recipes sent inmixed vegetable koftas dry as starters.
EC of Simple Indian Food sent in hariyali kababs.
A non-bloggger and a constant source of encouragement Pinky, sent in this recipe for 'Mangalore Bajjis'. I will insert the picture as soon as it is received. (I do not use vista yet so .docx files do not open in my computer!)
——–
Mangalore Bhajji from Pinky Gaikwad (India)

Ing:
Maida 1 cup
Fine semolina 2 tbsp
Sour Buttermilk: 11/2 Cups to 2 cups
Salt
Crushed fresh Pepper loadz
Curry leaves Chopped
Onion 1 Chopped
Method.
Mix all the above ingredients to a nice thick paste. Adjust the buttermilk till u get a thick batter. Drop spoonfuls of the batter into hot oil , & fry on a medium flame for 2-3 minutes by turning once as these take a long time to cook. It should be evenly and nicely browned all over.
Note:
These taste good when sour buttermilk is used, if the curd is not sour, mix everything together & keep aside for 2-3 hrs before preparing the bhajjis.
———-
I have put together all the entries I received as forwarded mails and those which were linked up with the announcement. If I have left out any please leave a comment and a link so that I can get back and update.

Comments
Have your say
Thanks for reading. Receive free updates by email.
Link to this recipe
If you have a website and would like to link to this recipe , simply copy(Ctrl + C) and paste the code below. It will look like this : Round up - Recipes For The Rest Of Us - STARTERS
<a href="http://tongueticklers.com/2009/05/round-up-recipes-for-rest-of-us.html">Round up - Recipes For The Rest Of Us - STARTERS</a>