Thank you all for the terrific response! I did not realize how much we all love the color 'red' until I saw the exquisite creations you people came up with! Before we go on to the varied food platter take a look at Stylish, Sexy, Savvy and Smart Red. Most of what I am giving below on red is from Wikipedia, which has become common knowledge thanks to magazines devoting a lot of time to colour psychology, and asides.
In human color psychology, red is associated with heat, energy and blood, and emotions that stir the blood, including anger, passion, and love. Literature associates red with sin, guilt, beauty, passion and anger, History with Socialism and the Red Revolution. Science has a whole array of terms with red – red stars, red planet, red spot, haemoglobin.
My favourite reds
In movies – Marilyn Monroe
In Music – The Rolling Stones logo:
Many more – Red as in 'Lady in Red' by Chris De burgh, red as in Julie Andrews' 'raindrops on roses', red as in 'Red Cross Society', and red as in Red Fort or Lal Quila for the Indian in me:)
In Food – Well… Just look, drool, make and enjoy:)
I present the entries in various categories – 'drinks', 'salads', 'soups', 'dips, chutneys and preserves', 'Starters', 'Side Dishes', 'A meal by itself' and 'desserts'. There were 44 entries in all. If I have left out any entry by mistake, please leave a comment on this post or email me at 'sunshinemomsblog [at] gmail [dot] com, and I will rectify as soon as I get back.
Cham's 'Fruit Juice Popsicle' at Spice Club
Cham's 'Strawberry lemon iced tea' at Spice Club
Jayashree's 'Pomegranate Juice' at Spice And Curry
Nidhi's 'Watermelon Ginger Ale' at Sizzling Bites
Sunshinemom's (Me) 'Red Hot Chilli Pepper' at Tongue Ticklers……
Vani's 'Cow Juice' at Illatharasi
Lakshmi's 'Grilled Red Pepper and Tomato Soup' at Taste of Mysore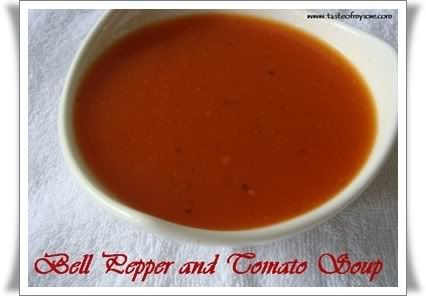 Usha's 'Red Bell Pepper Soup' at Veg Inspirations
Lubna's 'Yummy Tomato Soup' at Kitchen Flavours
Dips, Chutneys and Preserves
Bhagyashri's 'Mixed Berry Jam' at Taste Buds
Cham's 'Tomato Chutney' at Spice Club
Jayasree's 'Tomato ketchup' at Experiments in Kailas Kitchen
Mints' 'Ranjaka' at Vadani Kaval Gheta
Notyet100's 'Grilled Tomato Chutney' at Asankhana
Rachel's 'Spicy Salsa' at 'The Crispy Cook'
Rachel's 'Plum Sauce' at Tangerine' s Hideout
Ricki's 'Muhammara' at 'Diet, Desserts and Dogs'
Roma's 'Grilled Tomato Chutney' at 'Roma's Space'
Sangeeth's 'Red Bell Pepper Chutney/Dip' at Let us all cook
Sharmila's 'Tangy Plum' at Kichu Khon
Sweatha's 'Plum preserve' inspired from Cham's at Tastycurryleaf
Anisheetu's 'Beetroot Tikkis' at My Kitchen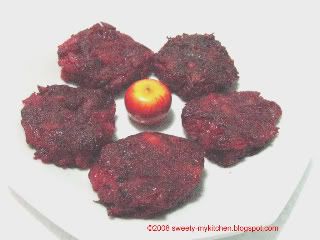 Rajani's 'Tofu Tikka' at Vegetarian In Me
Aparna's 'Tomato Rasam' at My Diverse Kitchen
Divya Kadua's 'Kukka Humman~Potato Curry' at Divya's Cook Book
Divya Vikram's 'Tofu Chilly' at Dilse
Easycrafts' 'Paruppu Kuzhambu(Sambar)' at Simple Indian Food
Jayashree's 'Microwaved Baigan ka Bharta' at 'My experiments with Food'
Meera's 'Tomato Che Saar' at Enjoy Indian Food
Priyanka's 'Paneer Dilpasand' at Asankhana
Renuka's 'Channa Stir Fry' at Fusion
Sireesha's 'Veg Kolhapuri' at Mom's Recipes
Srivalli's 'Beetroot Kurma' at Cooking 4 all Seasons
Sujatha's 'Thai Basil Curry with Tofu' at Spicy Khazana
TBC's 'Aloo ki Subzi' at The Budding Cook
Vaishali's 'Red Hot Vegan Chili' at Holy Cow!
Arundathi's ' Tomato Rice' at 'My Food Blog'
Bee and Jai's 'Parsnip and Rosemary Risotto' at Jugalbandi
Cham's 'Spaghetti with Soy Balls' at Spice Club
Deeba's 'Savoury Spinach, Tomato and Cheese Galette' at Passionate About Baking
Mansi's 'Cheese Ravioli with Tomato, Basil and Cream Sauce' at Fun And Food
Mythreyee's 'Pasta with Pesto and Homemade Marinara Sauce' at Paajaka Recipes
Nags' 'Pav Bhaji' inspired from Nupur's at 'Edible Garden'
Priyanka's 'Fresh Veggie Pizza with Red Capsicum' at Asankhana
Susan's 'Red Pasta' at Dragon Musings
Kaykat's 'Nutty Cherry Compote' at Cooking From A to Z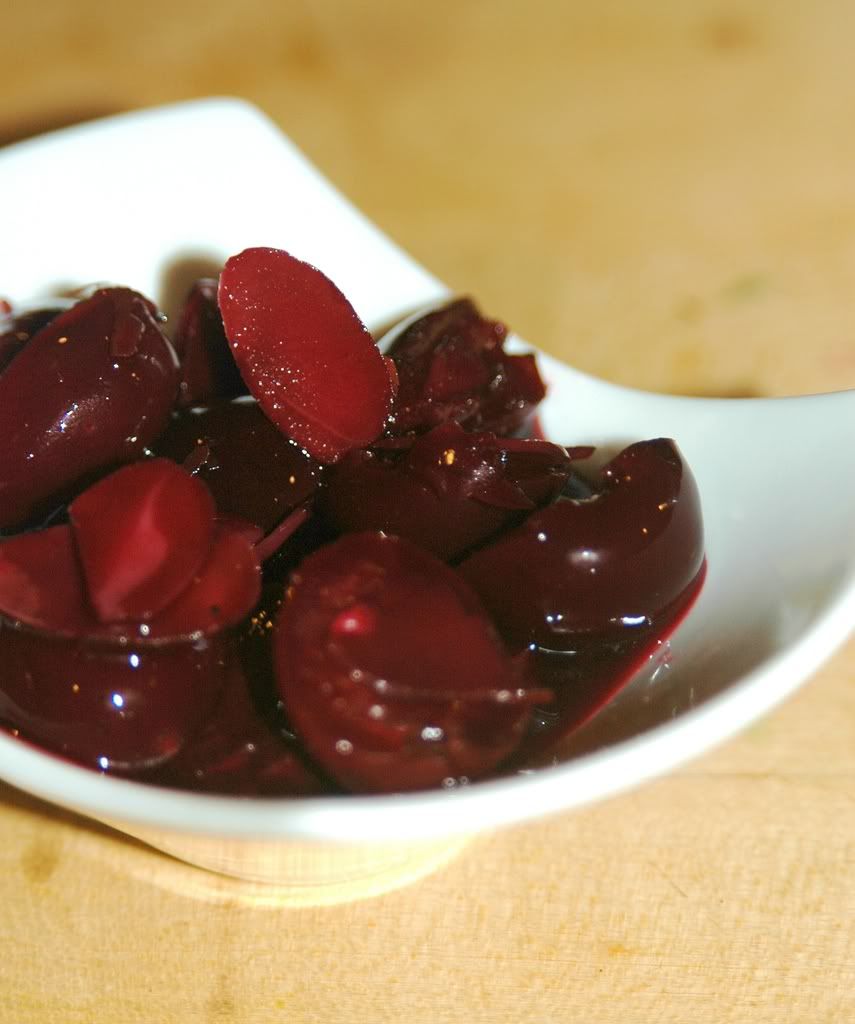 Linda's 'Strawberry and Lemon Cream Cheese Tartlet' at Make Life Sweeter
Michelle's 'Raspberry and Lime Cheesecake' at Greedy Gourmet
I enjoyed myself thoroughly discovering some wonderful blogs in the process, while hosting this event. I am also in awe with people who host many events and post the roundups on time:) . Hope you had a good time too!
Now for this month's Colour.
I am moving to the other extreme of the spectrum to soothe and cool ourselves after the red splash – Yes! It's Green for September.
The colour for this month – September is GREEN. The rules are quite simple:
1. Raw vegetables are not allowed except if used as such in salads or prepared food!
2. Any number of entries are welcome as long as the posts are done between 01.09.08 and 30.09.08.
3. The food item should be vegetarian which means no eggs, the post should be a vegetarian post.
4. If your food is cooked from any other blog or site please link your post with the name of the blog/site rather than 'here'. Also link your post to this post announcing the event.
5. Email me at – sunshinemomsblog(at)gmail(dot)com, replacing the (at) with @ and (dot) with . alongwith these details
subject line

– FIC GREEN,
Your name,
The name of your blog and its link,
The name of the dish and the link, and 'No picture' (I shall pick it up from your blog)
6. If you do not have a blog, just email the recipe and a picture.
The last date is 30.09.08.

Comments
Have your say
Thanks for reading. Receive free updates by email.
Link to this recipe
If you have a website and would like to link to this recipe , simply copy(Ctrl + C) and paste the code below. It will look like this : Round up of Food In Colours - Red
<a href="http://tongueticklers.com/2008/09/round-up-of-food-in-colours-red.html">Round up of Food In Colours - Red</a>